Aymara Food Organic Quinoa from Latin America
Quinoa, or Incan rice, is a superfood originating from the Andes. Grown for more than 7,000 years by Peruvians and Bolivians, organic quinoa is now known for its incredible health benefits.
Composed of 70% carbohydrates, 15% protein, minerals (iron, manganese, copper) and essential amino acids (EEAs), organic quinoa is recommended as part of a vegetarian diet.

Naturally rich in fibre and gluten-free, organic quinoa helps to fight cardiovascular diseases and diabetes. It normalises glucose, insulin and cholesterol levels and nurtures intestinal flora.
Aymara Food offers different forms and varieties of this magical "Incan rice": white, red, black, tricolor, quinoa, flour and flakes.

The best way to enjoy organic quinoa
In Andean cuisine, organic quinoa is mainly used to enrich soups or make small cakes.
Vary your menus by replacing pasta or tapioca with organic quinoa seeds in your soups, salads, drinks or desserts. Enhance your dishes with organic quinoa instead of meat.
Preparing a quinoa drink couldn't be easier! Boil a few teaspoons of quinoa seed and a cinnamon stick in apple juice with orange and pineapple peels and a little panela for a few minutes. You will get a delicious and nutritious beverage that is very popular in the Andes!

Quinoa and botanics
Quinoa is an amaranthaceae like beetroot and spinach. It is often referred to as "pseudocereal" because cereals such as rice, wheat, maize or millet belong to another botanical family: poaceae, also called grasses. This explains some of the specific features of quinoa, in particular the fact that its leaves are edible.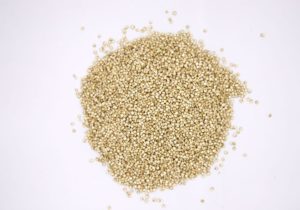 White Quinoa
Benefits:
Quinoa is the only seed that contains the 9 amino acids that are essential for human nutrition.
High source of iron: supports the production of blood cells.
High source of lysine: good for brain function and development.
High source of flavonoids: powerful antioxidant.
Rich in dietary fibre: improves blood glucose control.